For me, this year started out like no other, but to the rest of the world, it was business as usual and I was living up to two world championship titles. At least this is what it felt like to me. Feeling these expectations, I wanted to get back onto the race circuit as soon as possible after a fun and fulfilling off season of travel and family reunions. Given that I took a considerable time off, I had lost quite a bit of fitness and instead of taking the time to build up the foundations that support hard training, I hit the high end training with full throttle.
Building up fitness is kind of like building the foundation of a house: The bricks that make up the walls of a house must be securely built before you put the roof on. Then there are all the fixtures, fittings and furnishings that must be installed to enable the house to function. And the final stage is the interior design that gives this particular house it's personality. After that, your good to go and the parties and sleepovers can begin!
So, what happened this season? In a nutshell, I went from a vacant lot to a party and missed all the bits in between. I started back training with solid workouts in order to gain the strength and speed I needed to race Escape from Alcatraz which was 3 months earlier than normal due to the America's Cup. This is where my injury problems began. With no training foundation my body was unable to meet the demands of racing. After two more bad races, Ironman 70.3 St. George and Columbia 5150, it soon became evident that this niggle that started a few months earlier was not going away.
I did everything I thought was right to treat this injury, except stopping. I managed a decent race at Ironman 70.3 Boulder with a 2nd place finish, but I had to push through some pain to do so. At this point I knew I had left it too late to stop. It was August, and this is when my big training push for Kona happens. I decided to consult an orthopedic surgeon and get an MRI to see what possible course of action would enable me to fulfill my race schedule. Unfortunately, the news wasn't good. I had a hamstring tear and the Ironman 70.3 World Champs was a few weeks away. There was no way I was not going to defend both my world titles.
I took a course of pain medicine to get me through Vegas and chose to get a cortisone injection into my hamstring so that I could make it through Kona. At this stage it was pretty clear that I was not going to be racing in the same shape as the previous year, but I was still going to give it my all. I was seeing a therapist, David Darbyshire, pretty much every day while in Kona and he enabled me to get to the start line pain free.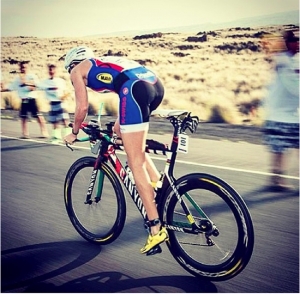 In Kona, the swim and bike went better than I expected. However I did pay the price on the run for cycling beyond my fitness level. The effort I put in on the bike to be competitive with the other girls left me with no legs to run with and my marathon was pretty miserable. I should have ended my season after Kona, but I was confident I had one good race in me this year. So I went on to compete in Ironman 70.3 Miami, a race I had won 3 times in a row. During the bike the pain I had prior to Kona returned in my hamstring. I had another sub par result with a 6th place finish. Immediately following the race I started to consult some of the best orthopedic surgeons in the country: Jeff Shilt, Lee Kaplin and Kennith Vine. I chose to work with Dr. Kaplan and his team at the University of Miami.
I started with a PRP (platelet-rich plasma) injection and total time off. It's been about 5 weeks now and I have had the green light to start light training again. The tear is still healing so I can't go full throttle just yet. Just being able to workout again feels great and I need to drop a few pounds as I had to go up a jeans size!
My motivation hit an all time low and I wasn't feeling excited about returning to training. Frustrated with the last 12 months, I felt I needed to make a big change. I had to find some sort of new beginning. And so, I have decided to take a new direction in coaching. Siri has been the most amazing coach for me over the past 4 years and what we were able to achieve was beyond my wildest dreams. Siri believed I could do it and convinced me to believe the same. The journey has taken us through huge ups and downs, which not only made us a stronger team, but tight friends. So, to say goodbye to Siri as a coach was one of the hardest things I have ever had to tell someone in my life. This is only the fifth coach I have decided to leave over the last 18 years. I think a coach gets to know their athletes on an almost intimate level and they create an emotional bond that I would equate to a relationship. Without a doubt, Siri will be missed. Yes, I have found a new coach, however I want to keep that under wraps for the time being.
Thank you to all my my family friends and sponsors for sticking by me. Wishing you all a Happy New Year. Here's to a successful and injury free 2014.